Guillermo Forchino

Guillermo Forchino
Guillermo Forchino creates comic sculptures with a lighthearted sense of fun and color. From his Parisian studio he looks at humanity with a wry eye and a Gallic shrug. Using the exaggerations of caricature, this comic sculptor magnifies our flaws to create humorous characters that we can all recognize and see something of ourselves in.
Born in Argentina to Italian parents, Guillermo Forchino attended art school in Rosario, Argentina then continued his studies in Paris at the Sorbonne. He was trained in all the classical techniques, but finally focused on art restoration and conservation. The Museum of Beaux-Arts in Argentina hired him as director of art restoration and he worked in this position for several years, but the siren song of the City of Lights never quite left him.
After his first child was born, he and his wife were determined to return to France. Their chance came when a friend offered them the loan of a small studio space in Paris. Although the artist had dabbled in painting, sculpture was his first love and he set out to make a niche for himself.
In 1985 he worked with two other artists on an exhibition about insane asylums. Forchino's contributions were wrapped and contorted figures of inmates made of papier-mache, wax and cloth.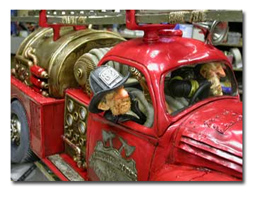 This work led to experiments with various sculpting materials for the new line of comic sculpture he was developing. An early attempt using bread crumbs soaked with glue proved very popular with the local mouse population—two of his sculptures were eaten overnight on the workbench! Finally he settled on a mixed combo platter of epoxy resin, plasteline, clay and papier-mache.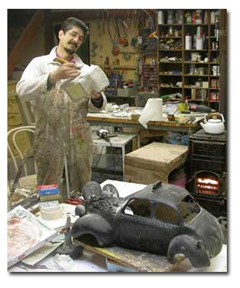 A whimsical early piece of a dictator afloat in a bathtub soon blossomed into a complete parade of vehicle-themed art. Tanks, speedboats, race cars and motorcycles—Guillermo's stable of humorous characters and their various modes of transport keeps growing. His wonderful limited edition sculptures are now produced in resin and hand-painted to bring every detail to life. Some pieces are mixed media—with bits of string, wire and artificial grass adding an extra touch of realism.
Isn't there a spot in your home that could use a smile?



View New Releases, Sculpture
---
New Releases
Click on an image to see pricing, size and description of art
---
Sculpture
Click on an image to see pricing, size and description of art